Plastic Truck Security Seals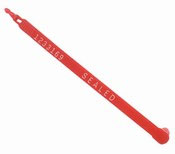 The Plastic Truck Security Seal is a fixed length plastic security seal that is the most secure, reliable way to secure your trailer truck doors and transportation equipment. Plastic Truck Security Seals are used heavily within the Freight & Cargo, Retail, Cash & Transit and Airline Industries.
Tug Tight Security Seals
The cinch-up, adjustable Tug Tight Plastic Security Seals are ideal for situations requiring varying security seal lengths. The one time use Tug Tight Plastic Security Seals are a tamper evident pull-tight adjustable security seal that allows the user to cinch-up the security seals according to their specific size requirements. 12in & 18 in.
EZ Lock Cable Security Seals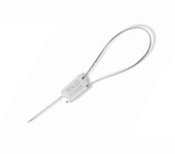 EZ Loc Cable Security Seals are a medium-duty cargo security seals featuring non-preformed security cables that fray when cut with various marking options for customized tracking.Our Cable Security Seals provide you with the measured security you need. EZ Loc Cable Security Seals are CTPAT/ISO 17712 compliant***.
SnapTracker Bolt Security Seals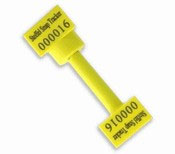 The SnapTracker Bolt Security Seals are a barrier class security seal, designed for securing high value cargo. A solid steel bolt provides strength while a molded plastic coating provides tamper-evidence. **THESE HIGH SECURITY BOLT SEALS MEET WITH THE ISO 17712:2010 STANDARD.