About Us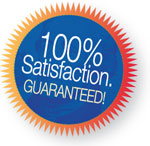 BudcoSecurity
has been providing quality
security seals
and safety supplies for over 40 years. Our extensive line of ISO 17712 compliant security seals means your cargo is secure every time it travels. Shop our online selection of
plastic truck seals
and other tamper-evident seals to see how we can meet your security supply needs. Not sure what you need? Our trained professionals can answer all of your questions, so call us at 800-747-7307.
BudcoSecurity has security seals and safety supplies for any job, and we can get your order to you when you want it. Our customers come back again and again because we offer:
Quality safety and security supplies
Security seals for transportation, retail/loss prevention and more
24-hour shipping*
Your Orders arrive in 1-4 days
And we take pride in giving you what you want on time and in good order every time. BudcoSecurity offers:
Volume purchasing to save you money
Personalized service to meet your security seals and safety equipment needs
100% Satisfaction…Guaranteed!
Budco is committed to making sure you are completely satisfied from the moment you place your BudcoSecurity order until it arrives at your facility. We do it right the first time, every time. Most orders are on their way to you within 24 hours*! We offer a wide variety of in-stock transportation security seals and safety and security products. If you are looking for that hard to find item, give us a call at 800-747-7307. Our staff will find it for you!
Call us today; we have cargo security solutions to keep you up and running. Plus, you'll get the selection, quality and service that your company deserves. Budco . . . Security That Is Evident Since 1964!
BudcoSecurity always provides hassle-free returns. If for any reason you are dissatisfied with the quality of your order, simply call us within 30 days. We'll be glad to provide an exchange or refund.