PLASTIC SECURITY SEALS
Budco's plastic security seals are perfect for circumstances calling for varying or fixed lengths. Budco has tamper-evident pull-tight adjustable plastic security seals which permit the user to cinch-up the seals, such as Tug Tight Security Seals, according to their specific size needs. They are available in medium and heavy-duty, all plastic, one-piece construction with a breaking strength of 40 lbs and up. Additionally, features include tamper-resistant acetal locking mechanism; weather resistant; withstand extremes of cold and heat. The seals can be separately stamped with company name and logo; matted in strips for ease-of-use; and laser-etched barcoding is available with extended flag and are available in a range of colors. Our stock plastic security seals ship in 24 hours. They are advantageous for trailer doors, bulk tankers, railcars, tote boxes, fibre drums, and storage cabinets.
Budco also stocks fixed length plastic security seals such as Plastic Truck Seals. Budco's Plastic Truck Seals are fixed length plastic security seals that are the most secure, reliable way to secure your trailer truck doors and transportation equipment. Plastic Truck Seals are used heavily within the Freight & Cargo, Retail, Cash & Transit and Airline Industries. Due to its patented design, the Plastic Truck Seals are the easiest to use and the strongest plastic trailer truck seals available. Ships Next Business Day!
Click on "here" below for more product information about our Security Seals.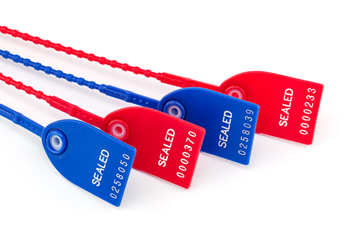 Click here to see our complete line of Plastic Security Seals.