Blog Categories:

---
Blog | Security Seals - 1D, 2D and QR Printing Capabilities
---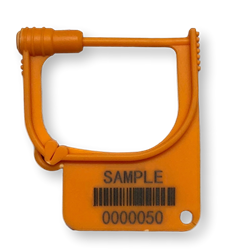 Budco Security Seals, an authorized TydenBrooks distributor, can offer laser printing to meet your needs. If you are in need of laser printed security seals, please don't hesitate to contact us. We would be more than happy to find the supply chain solution in the form of a laser printed security seal that meets your needs.
One of the latest padlock seals with this feature is the HL-6 Padlock Seal. The main new features are an extended spring arm with a plugged barrel, allowing for multiple application options, and laser 1D, 2D and QR laser marking. The HL-6 Padlock Seals are an easy use 'single hand' application padlock seal which provides reliable, cost-effective tamper-evidence. The HL-6 padlock seal is a one-piece, pull-apart strength at 11 lbs. (5kg) made from polypropylene.